Warning
: file_get_contents(http://urls.api.twitter.com/1/urls/count.json?url=https://handheart.com.tw/logo%e8%a8%ad%e8%a8%88%ef%bd%9c%e5%9c%8b%e5%ae%b6%e7%b4%9a%e7%9c%b7%e6%9d%91%e6%96%87%e5%8c%96%e5%9c%92%e5%8d%80%e9%a1%98%e6%99%af%e9%a4%a8-military-dependents-villages/): failed to open stream: Connection timed out in
/home/eptkiehm/public_html/handheart.com.tw/wp-content/plugins/tk-social-share/tk-social-counter.php
on line
88
Warning
: file_get_contents(http://www.linkedin.com/countserv/count/share?url=https://handheart.com.tw/logo%e8%a8%ad%e8%a8%88%ef%bd%9c%e5%9c%8b%e5%ae%b6%e7%b4%9a%e7%9c%b7%e6%9d%91%e6%96%87%e5%8c%96%e5%9c%92%e5%8d%80%e9%a1%98%e6%99%af%e9%a4%a8-military-dependents-villages/&format=json): failed to open stream: HTTP request failed! HTTP/1.1 404 Not Found in
/home/eptkiehm/public_html/handheart.com.tw/wp-content/plugins/tk-social-share/tk-social-counter.php
on line
140
民國38年政府播遷來台,當時隨同遷台軍民人口約百萬餘人,為了安頓軍心,政府陸續興建眷舍集中安置軍眷家屬,特殊的生活空間和多省籍的居民組成半封閉體系的眷村,相依與共的情感凝聚和圈地為安的自我認同,碰撞成為了獨特的「眷村文化」。​
The government of the Republic of China moved to Taiwan in 1930s. In order to settle down one million soldiers and civilans, the government successively built military residences. Special living spaces and residents from multiple provinces formed a semi-closed system of military dependents' villages. The collision of emotional cohesion and self-identity has become a unique "military village culture."
「包容性、多元性、未來性」
國家級眷村文化園區以高雄黃埔新村為起始,整合全台各縣市的眷村文化及歷史,打造具有旗艦型或國家級的文化園區。眷村不只代表著一個時代的縮影,更像是一個不斷分裂與交融的有機體,承載著過去的歷史,綿延出現在和未來的無限榮景。
​Starting from Kaohsiung Huangpu Village, the National Cultural Park of Military Dependents' Villages aims for "inclusivity", "diversity" and "futurity". It integrates the culture and history of military dependents' villages from counties and cities in Taiwan to create a flagship and national cultural park.​The military dependents' village is not just a microcosm of an era; it's more like an organism, bearing the history and extending into the present and future's endless splendor.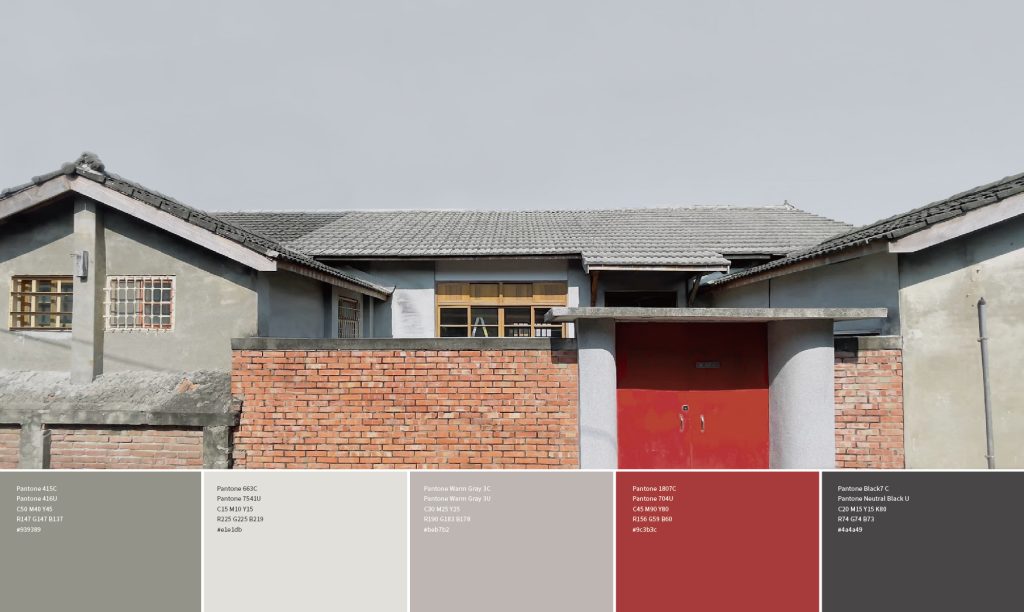 我們以「走進竹籬笆的世界裡,識之、品之、續之」為題,透過 Logo設計 期待人們能看見、體會,並且「再詮釋」眷村文化,如同一段時空旅行,從五感至精神層面體驗過往時代的記憶。
With the theme of "Step into the World of Bamboo Fences, Understanding, Appreciating, and Continued", we hope people see, experience, and reinterpret the military village culture, like a journey through time, experiencing memories of past era from the sensory to the spiritual level.
將「眷」字隱含於標誌中,以圖地反轉的的方式構成房舍與獨特棋盤狀的村落樣貌。標誌上半部猶如從空中俯視著整齊劃一的眷村景貌;下半部敞開的朱紅色家門,象徵走進並體驗一段時代記憶,更呼應眷村中如同家人一班,頻繁與緊密的連結。​
The character "眷" (meaning 'family') is subtly incorporated into the logo, and the house and the unique chessboard-like village look are formed in a way of figure–ground Illusion.​ The upper part of the logo feels as if one is looking down from the sky onto the uniform layout of the military dependents' village. The half open vermilion door in the lower of the logo symbolizes walking in the village ​ and experiencing a period of memory. It also echoes the frequent and close connection of the family in the military dependents' village.​
期待藉由一段歷史的保存與延續,一齊朗誦著過去時代的故事;傳唱著各地的特色歌謠,並譜寫出屬於未來共同的新樂章。​
It is expected that through the preservation and continuation of a period of history, we can recite the stories of the past era together, sing the characteristic songs of various places, and compose a new movement that belongs to the future.​
---
Case Close
Designer
Project Planner
Design Director
2021.12
Xiao-wen, Su
Yu-wen,Lu / Yen-zhu, Wang
Chih-yang, Hsu