Warning
: file_get_contents(http://urls.api.twitter.com/1/urls/count.json?url=https://handheart.com.tw/kaohsiung-public-library-canvas-bag-design/): failed to open stream: Connection timed out in
/home/eptkiehm/public_html/handheart.com.tw/wp-content/plugins/tk-social-share/tk-social-counter.php
on line
88
Warning
: file_get_contents(http://www.linkedin.com/countserv/count/share?url=https://handheart.com.tw/kaohsiung-public-library-canvas-bag-design/&format=json): failed to open stream: HTTP request failed! HTTP/1.1 404 Not Found in
/home/eptkiehm/public_html/handheart.com.tw/wp-content/plugins/tk-social-share/tk-social-counter.php
on line
140
手心團隊很榮幸能與高雄市立圖書館總館再次合作,推出2020年的總館限定 插畫設計 帆布手提袋。
We are honored to collaborate with Kaohsiung Main Public Library again to create the 2020 Kaohsiung Main Library limited edition canvas bag.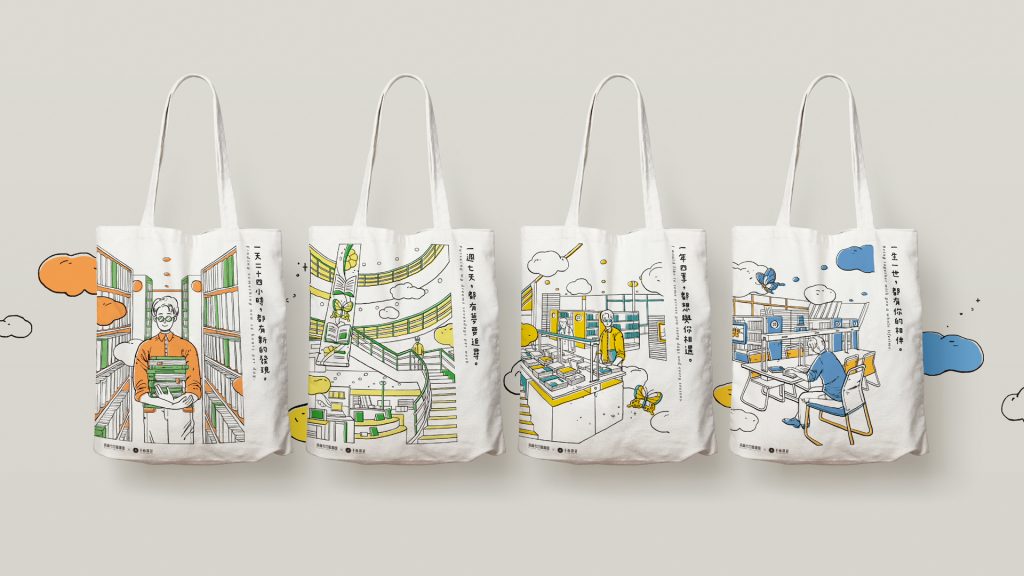 本次設計以帶有溫度的手繪插畫風格,重現館內各個角度的風景,畫面設定上為文藝少年與蝴蝶,在館內利用圖書的模樣。夢境般雲朵繚繞的世界裡,蝴蝶象徵著生命的蛻變、美麗的重生,充滿活力和靈性,能給人帶來鼓舞、陶醉和嚮往,就像館內圖書一直以來帶給我們的感受。蝴蝶本身型態也與書籍對折的造型相互連結,因以飛舞的蝴蝶象徵閱讀引領人們飛向遠方。色彩上配合四季變換,設計了四款不同的主色,以及隨著時間流動推移的標語,希望能與民眾一同感受,流淌在閱讀中的美好時光。
This design uses a warm hand-painted illustration style to reproduce the scenery from the library. The image is set to be a literary boy and butterflies in the library.​ In the dream-like cloud-shrouded world, butterflies symbolize the transformation of life and the beautiful rebirth. They are full of vitality and spirituality, and can bring inspiration, intoxication and yearning to people, just like the books in the library have always brought to us.​
​
The shape of the butterflies is also connected with the shape of the book folded in half and the flying butterflies symbolizes that reading can lead people to fly away. ​In accordance with the changing seasons, four different main colors have been designed, as well as slogans that flow over time. Hope to share the feeling with the readers and the good time flowing in reading.​
-​
結案時間 Case Closed-2019.12​
設計師 Designer-江珮瑜 JIANG,PEI-YU、盧臆雯 LU,YI-WEN​
專案企劃 Project Planning-蘇連捷 SU,LIEN-CHIEH​
設計總監 Executive Design Director-徐志揚 HSU,CHIH-YANG​
​
#高雄市立圖書館總館 #高雄總圖 #閱讀袋著走 #帆布袋 #帆布袋設計 #插畫設計 #平面設計 #手心設計 #KaohsiungPublicLibrary #CanvasBagDesign #BagDesign #IllustrationDesign #MerchandiseDesign #GraphicDesign #HandHeartDesign #TaiwanDesign ​