客戶以極具特色的選酒紀念自己的40歲,酒標設計以精緻的彩色插畫,以及稍超現實的構圖為主要視覺,呈現豐富的生命力及未來的無限可能性。視覺以三個國家的花卉和 version 40 組成,背景則為三個國家的地圖、特色、建築、代表物等,代表各走過 13 年的人生記憶,四隻最愛的寵物貓也躍然紙上,使整體 包裝設計 溫馨豐富。
The client commemorates his 40th birthday with a unique whisky. The bottle label design uses exquisite color illustrations and a slightly surreal composition as the main visual, presenting rich vitality and infinite possibilities in the future.​ The visual is composed of flowers from three countries and version 40; the background is the maps, features, buildings and representatives of three countries, representing that each country are having 13 years life memories. The four favorite cats are also on the image, making the overall is warm and rich.​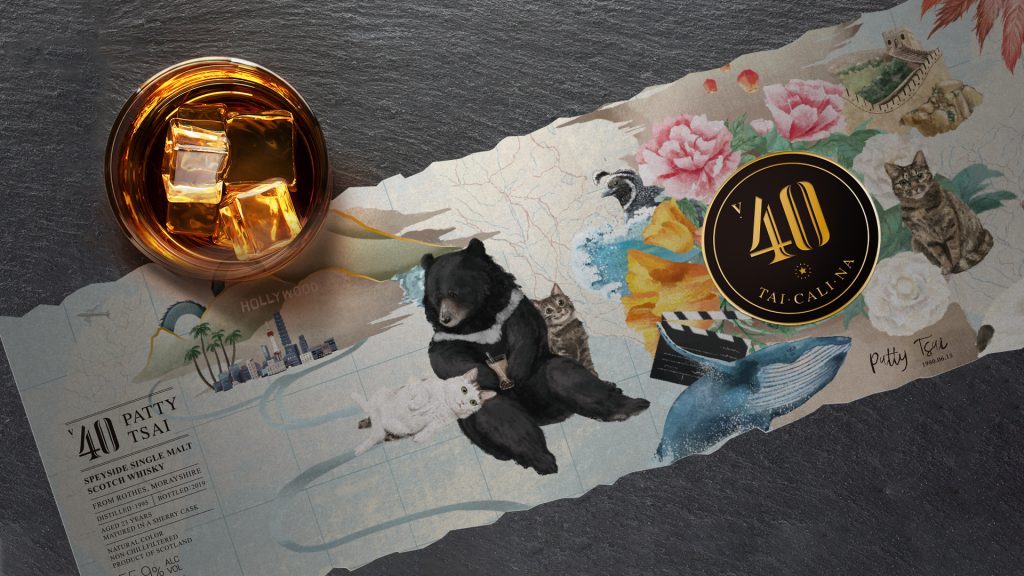 酒罐結合插畫與人像攝影,拼貼的表現形式也與酒標的超現實構圖相呼應,擷取各國的特色元素,象徵在40年精華歲月中的每一步印記,醞釀出逐漸平衡的美好,接受個性中不完美的特色、保留不隨從的本色。
The bottle label design combines illustration and portrait photography, and the collage expression also echoes the surreal composition of the label. To symbolize the imprint of every step in the 40 years of essence, capturing the characteristic elements of various countries, brewing a gradually balanced beauty, accepting Imperfect features in the personality, retaining the true of non-conformity.​
如同個人紀念酒擁有強烈豐富的特色,客戶是一位專業的廣告製片,創作了許多精彩的作品,來看看她的個人網站吧!​Just as the personal commemorative whisky has strong and rich characteristics, the client is a professional advertising producer who has created many wonderful works. Let's take a look at her personal website!​
https://pattytsai.me/​
​
-​
結案時間 Case Closed-2019.05​
設計師 Designer-潘東 PAN,DONG​
專案企劃 Project Planning-蘇連捷 SU,LIEN-CHIEH​
設計總監 Executive Design Director-徐志揚 HSU,CHIH-YANG​
​
#酒標設計 #插畫設計 #包裝設計 #紀念酒標 #平面設計 #手心設計 #LabelDesign #WineDesign #WhiskyDesign #Illustration #PackagingDesign #GraphicDesign #HandHeartDesign #TaiwanDesign #CommemorativeLiquorDesign #WineLabelDesign #BottleDesign​