Warning
: file_get_contents(http://urls.api.twitter.com/1/urls/count.json?url=https://handheart.com.tw/%e8%ad%98%e5%88%a5%e8%a8%ad%e8%a8%88%ef%bd%9c%e5%85%89%e9%99%bd%e5%b7%a5%e6%a5%ad-%e5%93%81%e7%89%8c%e8%ad%98%e5%88%a5%e9%87%8d%e5%a1%91-%e8%88%87%e9%96%80%e5%ba%97%e8%a8%ad%e8%a8%88-kymco-rebranding/): failed to open stream: Connection timed out in
/home/eptkiehm/public_html/handheart.com.tw/wp-content/plugins/tk-social-share/tk-social-counter.php
on line
88
Warning
: file_get_contents(http://www.linkedin.com/countserv/count/share?url=https://handheart.com.tw/%e8%ad%98%e5%88%a5%e8%a8%ad%e8%a8%88%ef%bd%9c%e5%85%89%e9%99%bd%e5%b7%a5%e6%a5%ad-%e5%93%81%e7%89%8c%e8%ad%98%e5%88%a5%e9%87%8d%e5%a1%91-%e8%88%87%e9%96%80%e5%ba%97%e8%a8%ad%e8%a8%88-kymco-rebranding/&format=json): failed to open stream: HTTP request failed! HTTP/1.1 404 Not Found in
/home/eptkiehm/public_html/handheart.com.tw/wp-content/plugins/tk-social-share/tk-social-counter.php
on line
140
光陽工業為台灣市占率極高的在地機車品牌,考量未來規劃與發展,開始著手進行 品牌識別重塑 以及門店的全面更新──使品牌精神不只是一句口號,更能被消費者實際看到、感覺到。為確保品牌形象一致,本案首先由手心團隊針對光陽的核心價值進行挖掘,萃取出「Win My Heart」標語中隱含的自豪態度,並將之轉化為三大關鍵字:光環、光芒與光速。
KYMCO is a motorcycle brand in Taiwan with a very high market share. Considering future planning and development, KYMCO is undergoing a comprehensive update for both its brand and stores. The goal is to make the brand spirit more than just a slogan but something visible and tangible to ensure a consistent brand image, we delved into KYMCO's core value. We extracted the prideful attitude implicit in the slogan 'Win My Heart' and distilled it into three key words: Aura, Radiance, and Speed of Light."
我們以「未來、國際、科技」為目標,從 品牌識別重塑 、服務設計、環境識別進行全盤思考,與協力夥伴南方事務所一同為品牌感覺把關,由延續品牌四大色彩白、銀、黑、紅將那份傲骨擴展到門店中,再結合直覺、效率化的動線設計與模組化的空間配置呈現出光陽工業在服務體驗上與其他品牌的區隔性。
With 'future, international, and technology' as our goals, in collaboration with our partner, Non Frontier, we comprehensively ponder over brand identification, service design, and environmental identification. Building upon the brand's primary colors – white, silver, black, and red – we extend that inherent pride throughout the store. By integrating intuitive, efficient flow design with modular space configurations, showing KYMCO's distinct service experience that sets it apart from others.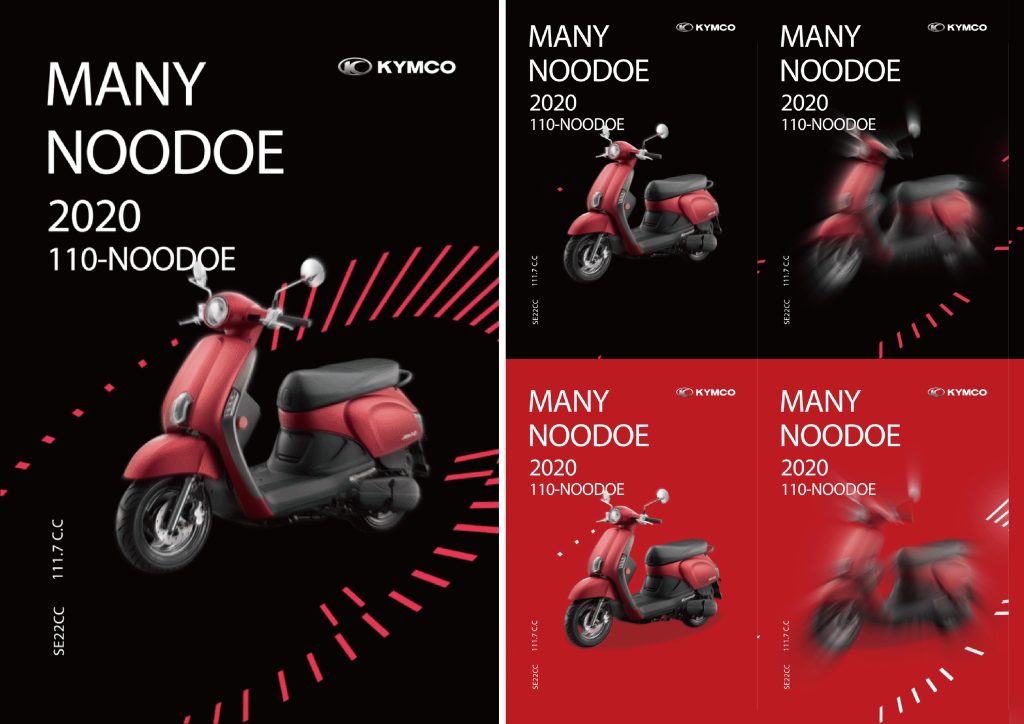 光,是本次的品牌與門市改造我們最希望傳遞給消費者的印象。未來的光、國際的光、科技的光,也是最得我心的光。透過合作夥伴南方事務所的共同設計與春淬設計工程、上豪廣告的齊心協力,我們期望以最高規格將全新的光陽呈現到消費者眼前,達成顧客體驗的一致性與品牌獨特性。
Light is the impression we most want to convey to consumers in this brand and store renovation. Through the collaborative design with our partner, Non Frontier, Chun Cui Design, and Sunho Advertising, we present the renewed KYMCO to consumers at the highest standard, achieving consistency in customer experience and the brand's uniqueness.
---
2022.09
李奕臻、蘇筱雯、鄭原傑、 吳淇宇、楊千瑩
南方事務所
春淬設計工程 、上豪廣告
盧臆雯
盧臆雯、蘇連捷
徐志揚
Case Closed
Brand Designer

Interior Designer
Construction
Project Planner
Project Manager
Design Director
2022.09
Yi-chen, Lee / Xiao-wen, Su / Yuan-jie, Cheng
Chi-yu, Wu / Chien-ying, yang
Non Frontier
Chun Cui Design / Sunho Advertising
Yi-wen, Lu
Yi-wen, Lu / Lien-chieh, Su
Chih-yang, Hsu