Warning
: file_get_contents(http://urls.api.twitter.com/1/urls/count.json?url=https://handheart.com.tw/%e7%b4%85%e9%bb%9e%e8%a8%ad%e8%a8%88%e5%a4%a7%e7%8d%8e%ef%bd%9c-%e9%ab%98%e9%9b%84%e7%ab%8b-kaohsiung-pose%ef%bd%9c2023-red-dot-design-award-winner/): failed to open stream: Connection timed out in
/home/eptkiehm/public_html/handheart.com.tw/wp-content/plugins/tk-social-share/tk-social-counter.php
on line
88
Warning
: file_get_contents(http://www.linkedin.com/countserv/count/share?url=https://handheart.com.tw/%e7%b4%85%e9%bb%9e%e8%a8%ad%e8%a8%88%e5%a4%a7%e7%8d%8e%ef%bd%9c-%e9%ab%98%e9%9b%84%e7%ab%8b-kaohsiung-pose%ef%bd%9c2023-red-dot-design-award-winner/&format=json): failed to open stream: HTTP request failed! HTTP/1.1 404 Not Found in
/home/eptkiehm/public_html/handheart.com.tw/wp-content/plugins/tk-social-share/tk-social-counter.php
on line
140
榮獲2023年德國紅點品牌傳達設計獎的《 高雄立 》,一場城市的探索,一個發現高雄之美的機會,只為讓世界看見台灣,看見高雄。
With an exploration of the city, an opportunity to discover the beauty of the city, "Kaohsiung Pose" was created. Moreover, this project won the 2023 Red Dot Design Award this year, truly letting the World see Taiwan and the city, Kaohsiung.
《 高雄立 》的發想源於我們對這座城市的熱愛,每座城市都有獨有的風格與特色,一想到高雄你會想到什麼?美濃的紙傘、旗山的香蕉,還是高雄港的沿岸景觀?作為在地設計品牌,我們將這份了解與情感融入到作品中,以細膩的設計語言,描繪出高雄的地方風情。
The conception of "Kaohsiung Pose" is based on our deep affection for this city. Each city has its unique style and characteristics. When we think of Kaohsiung, what comes to your mind? The paper umbrellas of Meinong, the bananas of Qishan, or the coastal of Kaohsiung Harbor? As a local design brand, we incorporate this understanding and emotion into our work, using a delicate design language to picture the local charm of Kaohsiung.
365nm防偽油墨
手心團隊透過創意發想及嘗試各種不同的可能,最終選擇使用365nm防偽油墨做為 高雄立 隱藏資訊,藉由手持特定的紫外光照射,引導觀眾在過程中發現那些微小而看不見,卻有重大價值的細節,結合活潑舞動的人形,實現互動的觀賞體驗,也揭開高雄的在地特色,讓人彷彿在這座城市中游走,隨著時間的推移,不斷發掘新的驚喜與感動,並用心體驗那些深藏的、真實的價值。
Through creative thinking and exploring various possibilities, our Hand Heart team ultimately chose to use 365um security ink to hide some information. By shining specific ultraviolet light, the audiences are guided to discover those tiny and invisible but valuable details in process. While realising the interactive viewing experience, it also reveals the characteristics of Kaohsiung. It makes people feel as if they're wondering in the city, and as time goes by, they'll constantly discover surprises and touches, and experience those deep values with heart.
「看見 看不見的價值」不僅是此次作品的核心概念,更是手心長久以來的品牌精神,我們認為設計的價值並非只停留在視覺的表現,而是能深入生活的每個角落,將看不見的價值讓世界看見,這些價值可能來自我們對生活的觀察、對歷史的理解、對文化的欣賞,或對未來的期待,而這便是我們希望透過《高雄立》所傳達的,也是我們眼中的高雄。
"Seeing invisible value" is not only the core concept of this project, but also the brand spirit of Hand Heart Design. We believe that the value of design is more than a visual expression, it can go deep into every corner of life and let the world see the invisible value. These values may come from our observation of life, understanding of history, appreciation of culture, or expectations for the future. This is what we hope to convey through "Kaohsiung Pose", and it is also Kaohsiung in our eyes.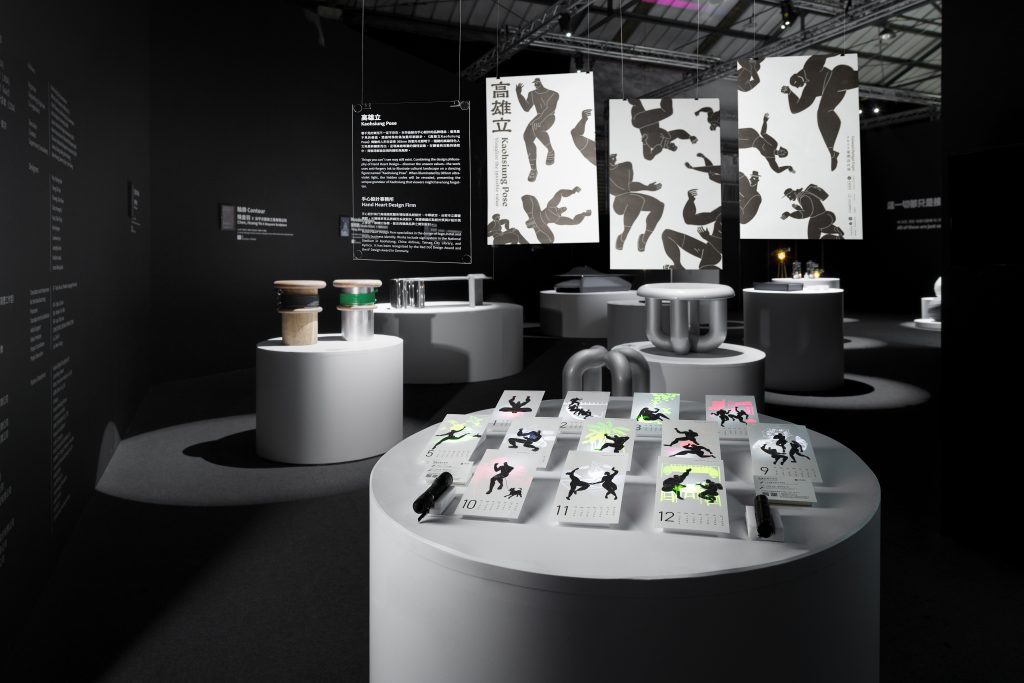 特別感謝協力廠商:
印刷顧問與油墨協力|東明油墨;色彩管理顧問|東煦色研所;印刷協力|上校印刷;紙張顧問|采憶紙業 李豐耀;紙張協力|巨圓紙業
Special thanks to our assistant partners:
Printing Ink Consultant | Tung Ming Printing Ink; Colour Management Consultant | T-Lab; Printing Cooperation | Colonel Printing; Paper Consultant | Feng-yao, Lee (Cherry Paper); Paper Cooperation | Pimex Paper
---
Case Closed
Designer
Project Manager
Design Director
2022.07
Xiao-wen, Su / I-chen, Lee / Dong, Pan
Chih-yang, Hsu
Chih-yang, Hsu